Anyone else here live in the sale racks!? I purchased this dress recently in the sale racks of Forever 21, which if you have ever seen one of theirs, you know that it can be quite overwhelming and chaotic.
This dress was originally selling for $40 which to be honest, isn't that much, but I was able to score it for only $14! I remember picking it up and being like there is no way that this will be my size, but then it was my size. My next thought was "there has to be something damaged on it", the zipper, a rip, or something. It would be a totally feasible thought, considering the intricate detailed workings of the lace, but after close inspection there was no damage….there was nothing wrong with it.
Even for the slightest of seconds I looked up and around thinking "I must be getting Punk'd, they are re-vamping the show and I'm their first feature", but Ashton was no where to be seen! So with all the quickness, I put this beautiful dress in my shopping bag and scurried down to the registers.
Then that's when it happened, the checkout line was really long, like a lot longer than usual, and a sales person walks up to me to state that the registers are down and that they are only accepting cash.
As a millennial, and this is something that I'm not proud of, I don't ever carry cash. So I had to put the dress on hold, which is usually something that you are not able to do with sale items, but the fashion Gods were being kind once again.
I went back to @Forever21 later that day to pick it up, with cash in hand, and was able to wear it to an am. azing blogging event with my San Antonio blogging family @BloggingSATX! I received so many complients and questions on it, and I love telling people how much I paid for something, because I want them to know that it's definitely possible to find a killer piece for a lower price. This dress, with all it took to officially acquire it, and it's beautiful detailing is easily one of my favorite dresses.
Unfortunately they no longer carry it in store or online, I've check, but lucky for you guys I've listed a few other knock-em-dead styles below!
Under $50
Over $50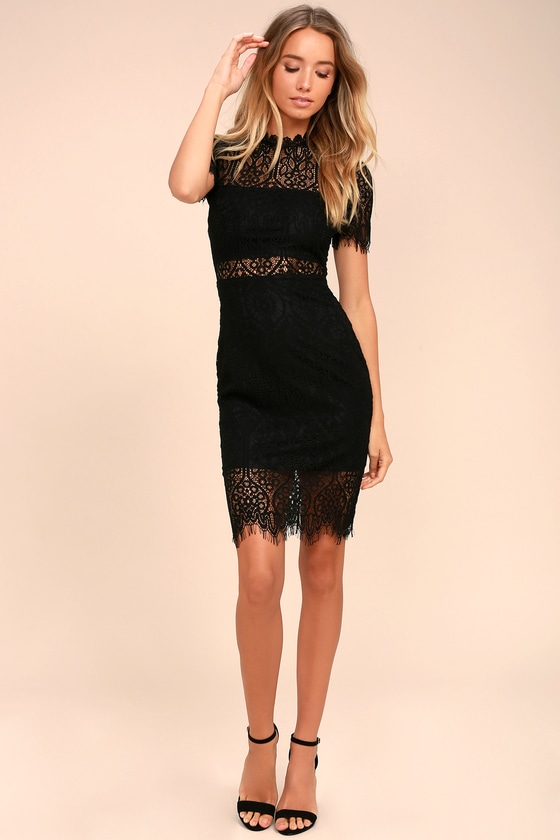 Under $50 dresses in order of Appearance:
Asos Black lace dress – nearly sold out
MissGuided Blk lace 2 Piece Set
Over $50 in order of Appearance: